"We're all artists and creative people - opening our minds to the creative process is one of the most valuable things we can do."

- Tim Ljunggren

Author, Koan Kreativity

"So grateful for this compliation of creative wisdom! Divided into short categories, each introduced by an ancient puzzle to ponder followed by corresponding comments on applications into our creative practices, Koan Kreativity is a must-read for anyone seeking inspiration to enhance their artistic expression. Buy one for yourself and stock several more away. This book is the perfect present for all of the creative souls on your gift list."

- Sydne

Amazon.com

"I've read many books on the creative process, but Koan Kreativity, smartly written by Tim Ljunggren, is unique and important, in that it distills what it means to be an artist down to its essence.

"Using the Koans (short Zen parables) as a thematic starting point for each chapter, the book moves the reader, whether you are a poet, a painter, or photographer, or anyone with a creative bone in your body (which as Ljunggren explains, is all of us) to integrate creativity fully into your life.

"Like a Zen master himself, Ljunggren intersperses his own insights about the creative process with quotes from writers and artists, inspiring readers to empty their monkey mind and open their consciousness to the creativity that exists in the universe and that echoes deep within each of our souls.

"Koan Kreativity will help you get your Zen on and do your own creative work."

- Anne

Amazon.com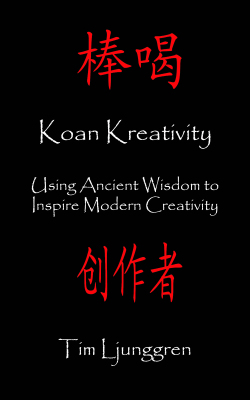 "...[A] lovely book that successfully manages to bring together the teachings of ancient Zen masters and other contructive methods that will help the artistic side of each and every one of us...Highly recommended!

- Andmicmic

Amazon.com

Koan Kreativity is reflective and thought-provoking. Although my first reading took only two days, my second reading, begun a month later, is still going on. The 25 short chapters each deserve their own time to be mulled over and considered. By moving between traditional Zen stories and reflections on creativity and its place in our lives, it kept me engaged and interested in the creative process and how I use it and can more effectively integrate it. The interspersed quotes from a variety of people provoke further thought, and sometimes rueful laughter, as I recognize cousins to my own thoughts, or insights I had missed until now.


(Favorite: "God is really another artist. He invented the giraffe, the elephant and the cat. He has no real style. He just goes on trying things." – Pablo Picasso.)


I will return to this book in cycles, I think, as well as gifting it to others. Thank you, Tim, for a work that is both insightful and entertaining. Well worth the time. Highly recommended.

- Montana Woman

Amazon.com